OUR OFFER

Out-Licensing
We provide out-licensing services for developed medicinal products in pharmaceutical forms listed below. For more detailed information contact us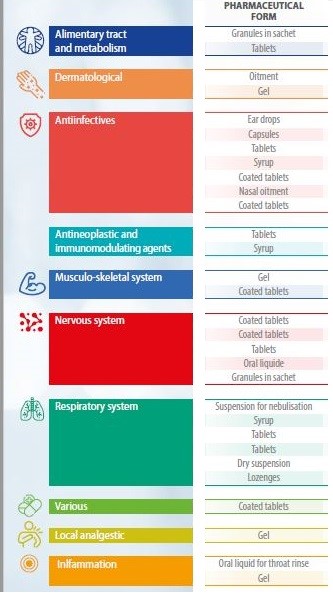 Pharmaceutical analysis
We provide quality control analysis according to Ph. Eur., USP and in-house methods and requirements for raw materials and finished products in the range of:

Identification testing
Assay determination
Related substances/ degradation testing
Preservatives analysis
Dissolution and disintegration testing
Franz diffusion cell tests
Rheological study
Aerodynamic particle size distribution (Next Generation Impactor)
Water determination
Melting point
Stability testing according to ICH/EMA guidelines (controlled conditions 25°C / 60% RH, 30°C / 65% RH, 40°C / 75% RH)
Photostability testing
Impurity synthesis, isolation, identification and qualification (IR, NMR, MS)

Analytical techniques:

Mainly high-performance liquid chromatography (HPLC) and ultra high-performance LC (UHPLC) with UV/Vis (DAD), RI, Flu detection.
UV/Vis spectrophotometry

Analytical method: development, validation and transfer

We specialize in analytical method developing, validation and transfer (including assay, related substances and dissolution testing methods). Validation of methods are established by laboratory studies which ensure that methods meet the requirements of intended analytical applications. All works are conducted according to ICH guidelines

Q2 (R1) Validation of analytical procedures : text and methodology
Q3A(R2) – Impurities in New Drug Substances
Q3B(R2) – Impurities in New Drug Products
Developed and validated methods can be further transferred to customers laboratory. At every stage we provide suitable quality documentation.
We provide research and development (R&D) services in the field of pharmaceutical formulation.
Offered R&D activities, concerning various dosage forms (listed in section below) include:

Compatibility studies
Formulation development
Solubility studies
Discriminatory power determination
Manufacturing process development studies

We provide contract manufacturing services of pilot or full scale batches of medicinal products including stages :

Process transfer and adaptation
Manufacturing of various solid-, semi solid- and liquid dosage forms
Packing, including blister packaging and bottle filling

Among manufacturing process activities we offer:

Manufacturing process development
Optimization of the manufacturing process
Manufacturing process validation
Troubleshooting
Scale-up activities
Dosage forms and technologies
We provide manufacturing of various dosage forms, applying modern technologies.
Solid dosage forms:

Granules
Powders
Pellets
Tablets
Lozenges
Capsules (hard)

Semi-solid dosage forms:

Ointments
Gels

Liquid dosage forms:

Solutions
Suspensions
Syrups
Ear, oral and nasal drops

Technologies:

Wet or dry granulation
Spheronization
Extrusion
Coating
Homogenization
Bioanalytical Services
We provide wide range of protein testing services (for custom assignments contact us here):
Recombinant protein expression and purification
Protein formulation development
Protein aggregation assay development
Stability tests in different matrixes
Analytical assay development
Copyright © 2000 – 2023 TCI Laboratories